For most people, whale excrement is literally just a drop in the ocean. But for scientists, including some participating in the 28th International Congress for Conservation Biology, the role of cetaceans in the healthy functioning of the marine ecosystem—even in climate regulation—is a topic of growing interest.

Ocean Fertilizers, Climate Change Mitigators and Biodiversity Promoters
The role of whales in the functioning of the marine ecosystem is indisputable. Their feces, rich in iron, nitrogen and other nutrients, act as a fertilizer, increasing the productivity of small algae known as phytoplankton that underlie the entire marine food web.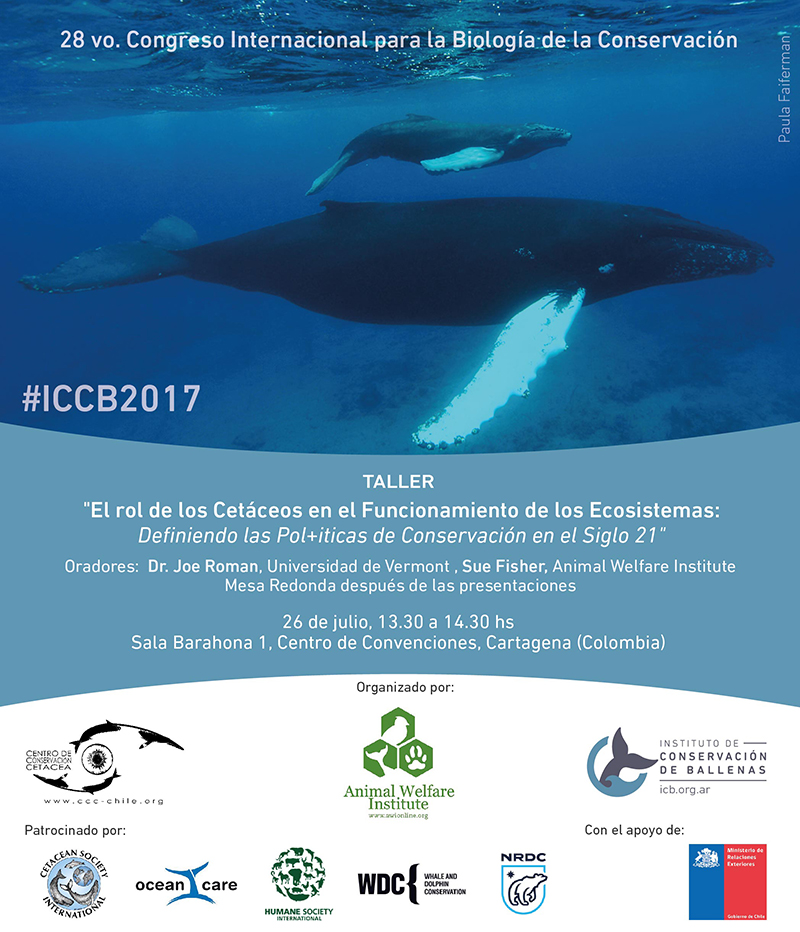 This fertilization can also help to mitigate climate change. The phytoplankton result in the sequestration of thousands of tons of carbon from the atmosphere annually.
The massive bodies of whales also lock up carbon, including on the sea floor where their carcasses can sustain dependent organisms for several decades.
Recognizing the Value of Whales in International Law
The ecological contribution of whales to a healthy planet was formally recognized on the international stage for the first time in 2016 when the IWC adopted a resolution submitted by Chile on "cetaceans and their contribution to ecosystem functioning." This is illustrative of a paradigm shift for the IWC–from a management organization considering a resumption of commercial whaling just a few years ago to one that must now integrate the ecological, economic and social value of live cetaceans into its decision-making, support further scientific research and increase global collaboration on ecosystem functioning issues.
Workshop ICCB2017
The workshop "Role of Cetaceans in Ecosystems Functioning: Defining Conservation Policies in the 21st Century" will present the scientific background and economic implications of whales' ecological services and discuss how policy-makers can integrate them into pro-conservation decision-making in international environmental agreements such as the United Nations Framework Convention on Climate Change and those related to fisheries management agreements.
Dr. Joe Roman, University of Vermont researcher and global specialist on the subject, will discuss the ecological and economic value of services provided by whales. Sue Fisher, Animal Welfare Institute legal expert and consultant, will examine mechanisms to integrate these values effectively into global conservation policies.
The workshop is organized by the Cetacean Conservation Center of Chile, the Whale Conservation Institute of Argentina, and the Animal Welfare Institute of the United States. Additional support is provided by the Directorate of Environment and Ocean Affairs of the Chilean Ministry of Foreign Affairs, Cetacean Society International, the Humane Society International, Natural Resources Defense Council, OceanCare and Whale and Dolphin Conservation.
For further information contact:
Elsa Cabrera, Executive Director, Cetacean Conservation Center, info@ccc-chile.org,
Roxana Schteinbarg, Coordinator, Whale Conservation Institute, icb@icb.org.ar
Sue Fisher, Consultant, Animal Welfare Institute, sue.fisher@balaena.org